At this time of year, thanks to marketing hype and the stigma that Christmas has to be "over-the-top", it can be tempting to over-complicate things. This Amaze-bowl is super quick, easy and nourishing. A satisfying, yet light combo of "on-hand" ingredients.
I made these babies last night for a pre-Christmas drinks and dinner catch up that we had with a close  family friend. She loved it … especially the macadamia butter element!
I think we forget how beautiful simple ingredients are and just need a reminder to get creative with our serving suggestions. Plus everything can be prepared ahead of time so you can pull it all together at the last minute … no stress and no fuss (winning!!!)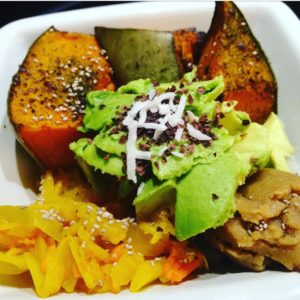 Amaze-Bowl (serves 3)
1 metric cup of rice (I used Jasmine but feel free to use your favourite rice variety)
300g pumpkin, de-seeded and chopped into medium-sized chunks (make sure you have 9 even sized chunks … 3 pieces per person)
Drizzle of macadamia or olive oil, for roasting (plus sea salt and pepper to taste)
1 medium avocado
Dulse, coconut shreds and chia seeds to sprinkle (feel free to change things up and use other fun sprinkle options; sunflower seeds or pepitas, flaked almonds, black sesame seeds, fresh or dried herbs etc.)
Salted Macadamia Butter (original version)
Fermented Veggies of choice (3 spoonfuls serves 3) – I used Kimchi because that's what I had on hand but my fave options normally involve a sauerkraut with some red cabbage or beetroot for the vibrant pink colour. Bottom line: use your fave fermented veg!
Method
Place pumpkin on a lined baking tray (bleach-free baking paper if possible – I love "if you care") and toss in coconut oil … season with salt and pepper. Roast for 45 minutes (or until golden brown) in a 170 degree C (fan-forced) oven. Remove and cool.
Meanwhile, cook rice via absorption method on the stovetop in filtered water. Once the rice is cooked and has absorbed all the water, divide among 3 cute serving bowls (option … cook rice the day before and cool down in fridge for 24 hours to cultivate gut-loving resistant starch … stirring some coconut oil or coconut cream into rice before refrigeration makes it even tastier and more nutritious).
Place 3 chunks of pumpkin per person on top of the rice (keep it to one neat section to allow room for other elements). Place one spoonful per person of macadamia butter next to pumpkin. Divide avocado into 3 portions and sit next to macadamia butter. Finally, add spoonful of Kimchi (or fermented veggies of choice) in between avocado and pumpkin, finishing with your sprinkle options.
Enjoy lovely ones and feel free to modify serving suggestions to suit what you like and/or have available; swap pumpkin for a roast veggie medley or some simple sweet spud, add some salad greens in place of avocado, use a different nut or seed butter or some cashew "cheese" in place of macadamia option. You could even make this post-Christmas with leftover roast veggies, salads and add some leftover turkey, prawns, fish, ham etc. … I reckon some chopped up mango and a squeeze of lime juice would make for an epic "summer special"