My Beautiful Local Gym, Brighton Fitness is closing it's doors after 20 years. I attend a class or two there most days of the week, so I am really upset and grieving the loss of my second home. Thankfully, they have a sister gym; Paragon Fitness, 15 or so minutes away, that I can still drive to – I'll just miss the community and convenience of this haven that was only across the road. I've only been a member for just over a year, but am shook to the core by the sudden selling of the building. I can't even imagine how devastated the friendly and hardworking employees must be feeling. I wanted to do whatever I could to help – which didn't seem like much …
So I wrote them a heartfelt card and made a batch of 

AMAZEBALLS …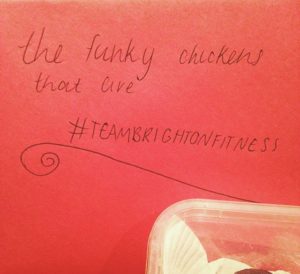 ---
Which brings me to intuitive cooking. I didn't measure the ingredients for these simple little balls of crunchy chocolatey goodness and they still turned out pretty damn snazzy (if I do say so myself …  and I do). More often than not, I'll prepare food with this free-spirited, trusting-that-everything-will-work-out attitude. Usually the results are "all G" at worst and holy shizballs (!) at best. Some recipes are a bit more fiddly than others, but most of a the time, a few tweaks here and there make the recipe even tastier. The more you use your intuition, rather than measuring everything to the letter, the more confidence you'll develop in the art of substitution. This helps cooking become a playful and relaxing ritual, rather than just another chore or obligation.
Last night mum was using the leftover lamb bone from Sunday's roast to whip up a batch of this soup. She asked if I reckoned she could add some extra veggies to the mix … I gave her a funny look. My mum is the queen of throwing every veggie from the crisper into her meals, whether the recipe says so or not. I think she was trying to be respectful because I made up the recipe, but she totally didn't need to worry. I want you guys to know that all of my recipes are made to be played with – except maybe this one, because you can't play around with yoghurt/sour cream-making (it can go bad too easily).
---
If the recipe says almonds, you can use cashews. If you need to be nut-free, use sunflower or pumpkin seeds instead. If I use coconut milk, you can use macadamia milk. If I suggest ground pecans, you can swap them for almond meal. If I say lamb, you can use beef, turkey can become chicken, salmon-ocean trout, spud spuds-regular spuds. Kale in place of spinach, carrots standing in for pumpkin, and dates taking the reins from raisins. Himalayan salt can be substituted for sea salt and vice versa. Don't like animal fat? Use coconut oil for cooking or baking (we do this most of the time anyway). Goodness me, there's so many more examples but I think my point has been made.
The recipe below is a great way to start having a play, like it sweeter and stickier – chuck in extra dates, want it richer? Go for more raw cacao powder. Like it chunky? Don't pulse the nuts for as long. Want it smooth and creamy like a traditional fudge? Blend for longer or sub nuts for nut-butter. You can add in a drop or two of food-grade, high quality essential oil – think sweet orange or peppermint for a groovy zing or spike the mix with some of your fave spices; I love cardamon and vanilla bean. The beauty of raw desserts is you can taste as you go until the mix if your tongue's idea of foodgasm-worthy perfection.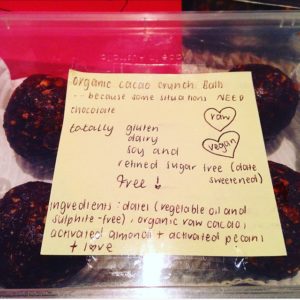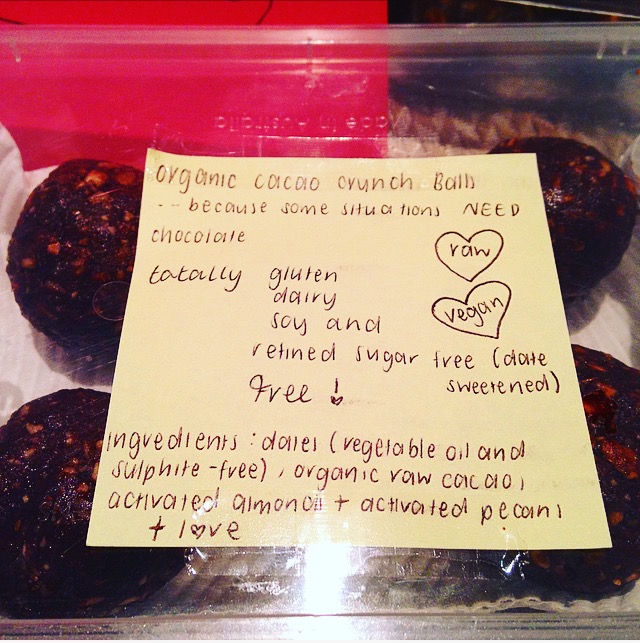 ---
Parting advice: start playing ever so slightly with your fave recipes, or browse my vast collection of easily adaptable recipes and vowel to change at least one or two minor details. Get comfortable with this and learn to trust yourself. I'm noticing more and more food bloggers and cookbook authors providing more and more substitutions and I suspect this is because of questions like; can I use dried apricots instead of figs? Man I use almond butter instead of peanut butter? They want to cover themselves to save on question answering later – I know the feeling.
Think about what an ingredient is doing in the recipe. If it's adding creaminess – you can sub for anything else that will give the same comforting richness. If it's there for added flavour – think herbs, you can probably swap said ingredient (if it doesn't float your boat) for your fave bunch of another wild green variety. Yes, it will taste difference, but it's always about making the flavour work for you. If it's an allergy thing, you can always (for example) use cashew milk in place of cows milk, or cows milk in place of cashew milk for nut free (so think smoothies, porridges, creamy sauces and soups).
It's okay, trust yourself, and make your food work for you. If you run into a few bumps and misadventures along the way – you'll learn and have a funky story to tell after you get over the  regret of adding too much cardamom to a particular batch of porridge, as an  example (really, I'm okay … with a little help from my therapist, I'm gradually getting over that spicy dilemma – jokes).
Raw Cacao Crunch 

Amazeballs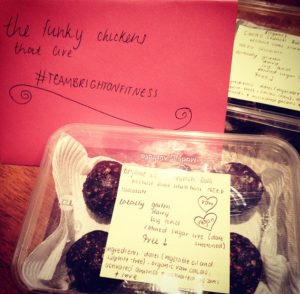 2 cups pitted dates, sulphur and vegetable oil-free (or any other dried fruit that rocks your groovy socks)
1 1/2 -2 cups activated nuts (I used a mix of pecans and almonds)*
1/4 -1/2 cup raw cacao powder (more for a darker choccie flavour)
Optional add ins: 1-2 drops food grade orange or peppermint essential oils, 1/4 teaspoon cardamom, vanilla, ginger and/or cinnamon, as much or as little booster powder such as spirulina, maca or hemp protein etc.
Filtered water 1-3 Tablespoons to bring mixture together so it's flexible enough to work into balls (but not so wet that it's chocolate slime – this is where you'll just have to have a play – adding more nuts to dry the mixture out or a tad more water for a wetter chocolate "dough")
Method
Place dates, cacao and nuts in a food processor or high-speed blender, along with 1-2 Tablespoons of the water. Pulse on medium-high, stopping the machine every few pulses to scare sides down and give blades a chance to reach different areas that have not yet been broken down. If you're using a Vitamix (or another machine with a tamper) use this tamper to push the mixture into the blades (make sure the lid is on so the tamper can't actually touch the blades (otherwise you'll be looking at a broken tamper -trust me, I have ditzy experience in that department).
If the mix is still a tad dry, add that extra Tablespoon of water and plus/blend-and-tamper until mix comes together to form a nice dough. I like to leave the nuts a bit chunky, so I tip my mix into a mixing bowl and "knead" it with my hands to bring any last stray "crumbs" together.
Then I prepare a storage container by lining it with paper towel, and start rolling the mix into balls (they can be any size you like – I never measure!). Keep rolling until all the mix is used up.
These babies will last in the fridge for 2-3 months (but I doubt they'll last that long – especially if you're a generous old soul and share them with your mates … but I'll leave that one up to you … no judgement if you hide this stash in the back of the fridge instead).
Notes
The recipe won't flop if you don't use activated nuts – it will just be easier to digest if the nuts have been activated – soaked in water for 12 hours, then drained and rinsed (this reduces any naturally-occurring substances in the nuts that protect the nut itself from digestion … also known as "anti-nutrients") and dehydrated at a low temperature until crisp. The latter is more for preservation purposes, you can soak your nuts, drain and rinse, then add straight to this recipe and just leave out the added water … just be sure to use these balls within a week or two, as the added moisture will make it susceptible to mould growth.