It's been a while since my last "a day on my plate" post and I figured, I've actually got time to do a blog post (because this chicken is actually up-to-date with her uni assignments – #proudmomentindeed) let's take a peek at my veg-a-licious eats of late …
Breakfast 
No surprises here, I'm still on a green smoothie kick. My fave combo lately is baby spinach, young coconut water, raw cacao powder, fresh ginger root, chilli flakes, cardamom, vanilla bean powder, green leaf stevia powder, spirulina, natural calcium powder, probiotic powder and filtered water ice cubes. It's sweet, spicy and makes me feel so well taken care of by; my Vitamix, the plant kingdom, online/supermarket providers/farmers of said ingredients – oh and coconut tree climbers. To the entire team that unknowingly band together to make my morning smoothie ritual possible – thank you!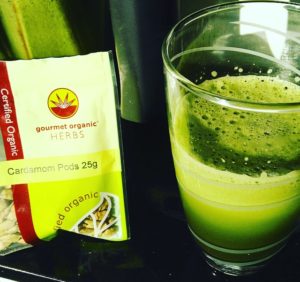 Lunch
I am loving two courses; the first will be a veggie bowl, something like turmeric cauliflower rice  …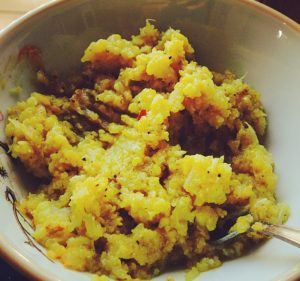 … or a simple concoction of steamed sprouts and kalettes (a cute cross between a baby Brussels sprout and kale … super sweet and pretty and purple #veggiecrush) with olive oil, herbamare, turmeric and black pepper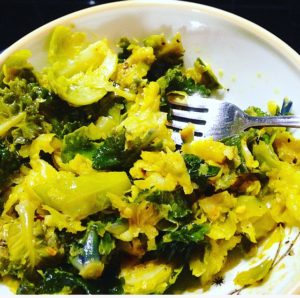 Then for part 2 … I'm obsessed with roasted sweet spuds (especially the purple ones, which I munch on as I type this post for you fine people) with homemade nut butter.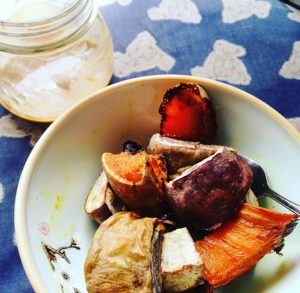 I usually make up 2 nut butters a week. One is usually inca inchi and the other; a blend of whatever nuts/seeds I have on hand. This week it's macadamias, hazelnuts, walnuts and hemp seeds spiked with cinnamon, vanilla, cardamon and chilli.
Dinner
My usual broccoli crush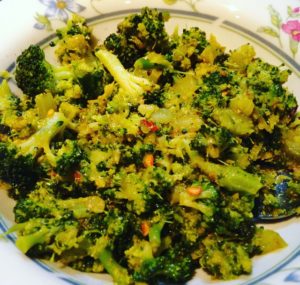 but with added chilli flakes because I'm obsessed with chillies lately!
Followed by roasted pumpkin and more nut/seed butter (that's why I have two on hand each week, so I'm getting a broad range of amino acids and other nutrients rather than just relying on one lone variety).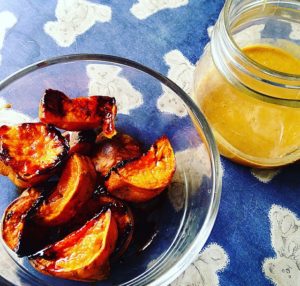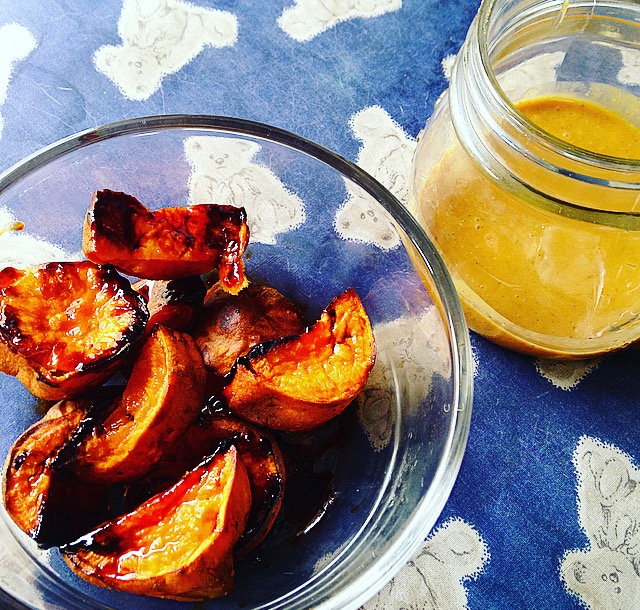 I am so comfortably content with these options at the moment! If you'd told 9-year-old Rachie that one day, her diet would be 80 or so percent vegetables, I think she would've passed out from shock. That little munchkin liked veggies sure, but probably not as much as pasta with cheese or butter chicken with rice.
It seriously amazes me how satisfying vegetables are when they are prepared in ways that I digest well (i.e. blended, steamed and roasted) and then served with satisfying extras; nut/seed butters, olive oil, herbs, spices and quality salt.
What are YOUR fave veggie dishes? Any quirky but ridiculously satisfying serving suggestions you care to share? Let me know amigos – it's always fun to hear from you xxx