I don't always use the phrase "BOMB DIGGITY"

, but when I do it's because of taste sensations like this super-easy dessert "parfait".
This baby only features two ingredients, but the technique and uh-maz-zing flavour combo is the absolute shizzle, I'm not even exaggerating when I say that it honestly tastes like banana cake batter (and who doesn't love eating cake batter by the spoonful?)
This is more of a serving suggestion than a recipe – but I shitzu not, if you're bananas are on point with their ripeness, and you've made a nice smooth inca inchi butter, then you will be blown away by the cake batter resemblance.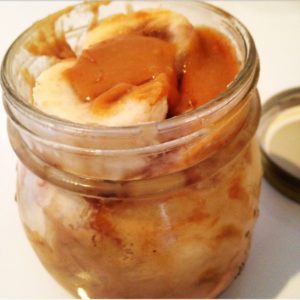 "Banana-Cake Batter" In-A-Jar Dessert
2 perfectly ripe bananas (1 large and 1 small ) (your "perfect ripeness rating" is totally subjective, I like it with a few brown sugar spots, but not yet banana-bread worthy)
3-4 Tablespoons of Homemade Inca Inchi Seed Butter
Method
Slice large banana into small chunks or super-thin coins and place in a medium-sized recycled jar and top with 2-3 Tablespoons of Inca Inchi Butter.  Stir/Mash this mixture together until smooth and creamy with a few yummy banana "lumps" left for good measure
Slice remaining small banana into thicker coins and layer in a circle as many as will fit, dolloping on the remaining Inca Inchi Butter and then finishing my topping with remaining banana, pressing everything down so that is pushes together and the lid fits on.
Chill in fridge for at least 2 hours before serving, this allows the natural sugars and juices from the banana to properly combine with the gooey, creamy and slightly-salty butter for a well balanced dessert
Notes
You can sub Inca Inchi butter for nut butter of choice – just make sure it's slightly salted to balance the bananas' sweetness. I reckon the best replacements here would be 100% natural peanut butter (the closest thing to inca inchi butter), unhulled tahini, cashew butter or macadamia butter)
This is a great dessert or make-ahead breakkie (make the night before) for athletes – the bananas are super dense in potassium (lost through sweat) and magnesium (active muscles require more of this essential mineral than the average human), plus the inca inchi butter is a complete protein so will fuel muscle growth and repair
If you aren't a fish fan – Inca Inchi seeds are a brilliant source of plant-based essential fatty acids – all the more reason to enjoy this beauty on a regular basis