Cooked and cooled rice is a source of resistant starch. Resistant starch (as the name suggests) resists digestion in the small intestine, instead acting as more of a fibre. It's an incredible fuel source for our gut bugs to keep them thriving and healthy (super important for digestion, amazing skin, immunity and mental health).
The coconut milk is a brill source of fatty acids for nourishment and energy and the warming spices help to balance blood glucose levels. Pair this with the fibre- rich dates and the zinc-loaded pumpkin seeds and you've got yourself a pretty snazzy make-ahead brekkie.
I've added some frozen organic wild blueberries here, plus some natural organic yoghurt on top (because I made this particular batch for daddy-o to enjoy as an easy and nourishing brekkie throughout the week – and he loves a bit of good quality dairy).
By all means you can use whatever fresh or frozen berries you have available, or sub for some sliced narnies or stewed apple and/or pear. Coconut yoghurt or cashew cream would keep things dairy free and if you aren't a fan of pumpkin seeds, sub for any other nut or seed – macas or some toasted pecans would be incredible, or even a big dollop of tahini to serve. The possibilities are endless really. Try some pumpkin purée or cubes of roast pumpkin stirred through for extra sweetness and antioxidants – yum!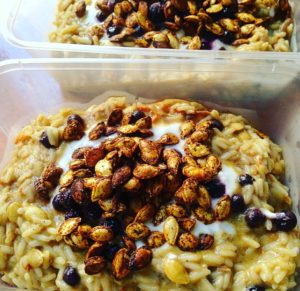 Ingredients – serves 2 (make the day before to allow rice enough time to cool and turn into a resistant starch)
2/3 cup rice of choice (I'm a sucker for organic Jasmine rice)
2 cups homemade coconut milk (or sub for milk of choice; macadamia, cashew, rice etc.)
Ground cinnamon, nutmeg, clove and vanilla bean powder – all to taste (I love going nuts with cinnamon and being reserved with the other three)
6 organic dates, pitted and chopped
1/3 cup toasted pumpkin seeds (I saved the seeds from a butternut pumpkin I was roasting. I scooped out the seeds, tossed them in some cinnamon, vanilla, olive oil and Himalayan salt and roasted them in a 170 degree oven for about 20 minutes until golden and crispy)
1 cup frozen wild blueberries (or fruit of choice)
1 cup organic natural yoghurt (cows, goats, or coconut for dairy-free)
Method
Bring coconut milk, spices and dates to the boil in a saucepan and add your rice. Turn down to a simmer and cook, stirring occasionally, until the rice is soft and has absorbed most of the liquid. Turn off the heat and stir through half the seeds and berries (or fruit of choice).
Divide among two bowls (or containers) and refrigerate overnight.
In the morning, decorate with a generous dollop of yoghurt (or cashew cream or tahini if you don't have yoghurt – if this is the case, maybe serve this brekkie with a glass of kefir or kombucha tea or sprinkle the pudding with some probiotics powder), the remaining fruit and toasted seeds. Enjoy the benefits of both pro and pre-biotics in the one meal.
Notes
Remember probiotics are our good gut bugs and pre biotics are their fuel, so it's always best to combine the two. Other sources of probiotics include fermented veggies, kombucha tea, coconut water kefir, fermented cashew cheese, homemade sour cream. Your prebiotics are found in foods such as bananas and green banana flour, pears, apples, root veggies, onion, garlic, cruciferous veggies (think cabbage, cauliflower, broccoli, Kale etc.), nuts, seeds, wholegrains and legumes. Basically fibre-rich foods are the go.