I really love nuts. Of all the allergies and intolerences I have to certain foods and chemicals; wheat and gluten, dairy protein, capsicums (such a random one), sulphur dioxide, parabens etc. I am extremely grateful that nuts and seeds aren't on my own personal "avoid" list.
I love cashews in a creamy soup, pepitas sautéed in coconut aminos as a crunchy snack or sprinkle on a savoury meal, macadamias in these muffins, almonds in bliss balls and inca inchi seed butter with bananas.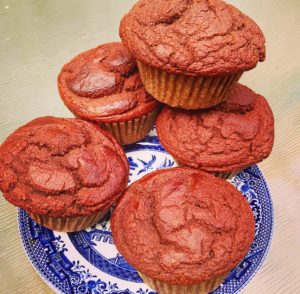 However, I am painfully aware of the fact that loads of people can't tolerate them and in the world of gluten-free baking they get totally gypt (is that how you spell it?). Nut-free peeps shouldn't have to resort to the starchy world of tapioca and potato flours or the dense and overly-fibrous paths of coconut flour. They deserve some recipes that are quick, easy and have textures reminisce of traditional glutenated (a word which here means containing gluten) treats.
These scrummy muffins have a short ingredient list, are relatively low in fat (not that we fear fats around here but not everyone thrives on an uber high-fat diet and maybe they'd want to save their lipid allowance for mealtimes #alltheavocado), are dense in fibre (hello funky and satisfying poos!) and have lots of muscle-relaxing magnesium (so if you're an athlete this is the perfect post-training treatie).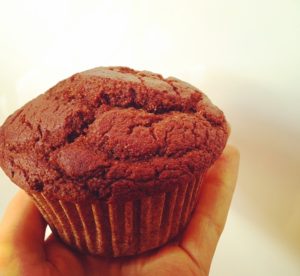 No Nuts About Them Choccie Muffins
4 super-ripe bananas
1/3 cup raw cacao powder
3 eggs (as always, let's try to source the best quality eggs we can to vote with our dollar and support the chickadees)
1/2 teaspoon gf and aluminium free bicarb
1 cup organic brown rice
A pinch of Himalayan salt
A pinch of vanilla bean powder
Method
Preheat fan forced oven to 180 degrees C and line a muffin tin with 8 "if you care" muffins tins (technically any muffin tins will do, but I a man in love with this toxin-free, Eco-friendly brand).
Plop your wet ingredients into a food processor or high-speed blender (I use my trusty Vitamix) first and follow with the dry ingredients. Whizz up on a high-speed until a smooth, creamy batter comes together.
Divide batter evenly among the 8 cases and bake for 30-35 minutes.
Remove and cool on a wire rack.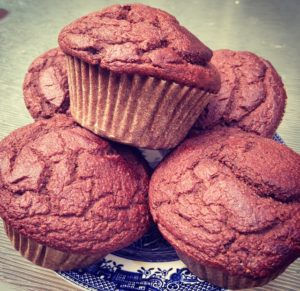 Notes
If you want to be all ridgy didge and fashionably "old school", you can use 3/4 cup brown rice flour instead of whole rice grains, mash the banana by hand and beat the eggs with a hand-held electric beater and then mix everything together in a bowl with a wooden spoon (so if you don't have a high-speed blender or powerful food processor this will be the go)
If you want to keep this technically "grain-free" use 1 cup buckwheat groats instead of brown rice (buckwheat is actually a seed and related to the rhubarb family – I always find these quirky wholefood family trees fascinating!)
For special ocassions, try adding 1 cup dark chocolate chips to the mix after blending and serve warm, topped with a blob of coconut yoghurt and some fresh (or frozen) berries