Every family has a favourite Christmas Cake recipe, either passed down through the generations or created in more recent times from experimentation gone right. This rich and moist fruit cake is the latter.
A combination of almonds, coconut and banana flour makes this special Christmas treat gluten and grain-free, without compromising on texture or flavour. The addition of essential oils brings an extra touch of Christmas love and makes me think of my beautiful friend Kimmy – the woman that took my mild affection towards essential oils and turned it into borderline-obsession (and I wouldn't have it any other way!)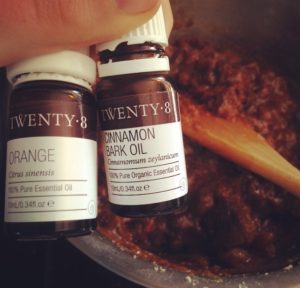 Christmas can get so crazy, I find that the ritual of cake-making really slows me down and gives me time to remember that there's no need to rush. I love the aroma of brandy-soaked fruit and Christmas spices … it's a smell I only get to enjoy once a year … so I relish each waft coming from our big Christmas Cake/Pudding-dedicated mixing bowl. Then there's the cakey-amazingness that fills the house whilst the cake takes it's time baking in a slow oven.
Enjoy lovely ones, Merriest of Christmases to you and the fam bam, and as always, plenty of Rachie-bear hugs from me to you!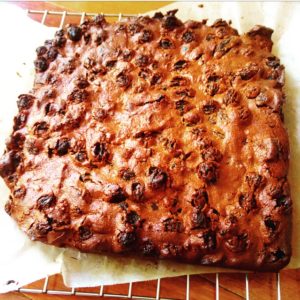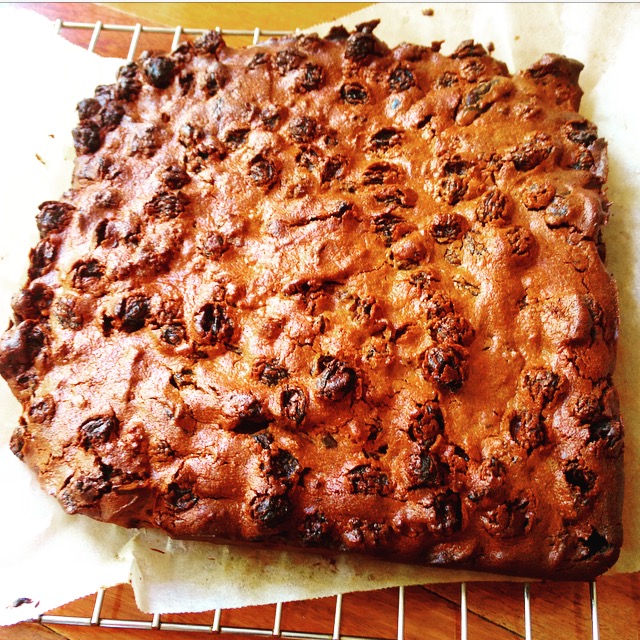 Christmas Cake
(for the soaked fruit)
3 cups mixed dried fruit (I used sultanas, raisins, chopped dates and white mulberries – additive and vegetable oil free varieties are preferable)
1/4 cup brandy
1/2 teaspoon each of cinnamon, mixed spice, ground cloves and sea salt
1 drop each of food-grade orange and cinnamon essential oils (I used the Twenty8 brand but you're welcome to use another brand if you already have it on hand)
Method (part 1)
Combine fruit, spices, salt, essential oils and brandy in a large bowl. Cover bowl with a tea-towel and soak overnight
(for the batter)
1 cup desiccated coconut (free of preservative 220)
1/2 cup almond meal (I made my own)
1/2 cup banana flour
125g organic butter, softened
2/3 cup rapadura sugar (can also use coconut sugar)
2 eggs
Method
Preheat oven to 150 degrees C and line a small, square cake tin with bleach-free baking paper (I use the "if you care" brand).
Combine all batter ingredients in a powerful food processor or blender (of course, you know me, into the vitamix everything went) and blend on high until a smooth, thick, caramel-ly batter has manifested
Pour batter over the soaked dried fruit and gently fold fruit into batter
Pour batter into prepared tin and bake for 1 hour or until cooked through and golden brown on top